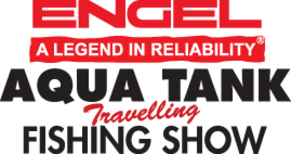 As seen at the Mandurah Boat Show, the Perth Royal Show and CrabFest, the Aquatank is one of the world's largest mobile aquariums. With a capacity of 14,000 litres, the tank is perfect for fishing demonstrations, diving promotions or even as a unique feature full of marine life.
Possibilities don't the stop there – if you have an idea on how the Aquatank can be incorporated into your next corporate function or private event, please call us to discuss the various packages available to you.
• Retail Promotions
• Corporate Functions
• Festivals
• Private Parties / Weddings
The base-hire fee for the Aquatank starts from $1,000 per day (minimum booking of 2 days + GST). Water and fish can be arranged for you and cost approximately $500 (this price will vary according to type and quantity of fish you require).

Call us for a free quote! (08) 9386 9666
We can also provide you with the complete Aquatank Fishing Show package which includes Aquatank, Water, Fish and Presenter. Call or email info@aquatank.com.au for a free quote.
To see what additional presenters we may offer you click here.



A major attraction for shows, exhibitions, sports days, public or private events. Now available throughout Western Australia!
The very latest fishing techniques are demonstrated in one of the world's largest mobile aquariums.
How it works
The presenters cast fishing lures into the tank so viewers can see how they work underwater. The presentations vary, showing how different lures work and how different species can be targeted. The tank is very entertaining, even if you aren't a fishing enthusiast, giving the viewer a newfound dimension to their fishing knowledge. Barbless lures are used so the fish are not harmed.
How to book the Aquatank
Subject to availability, the tank can be transported anywhere in Western Australia. We can package a show to your requirements and budget. Please fill out the booking application at the below link and a full quote will be sent to you. A booking will be made once the quote has been accepted.

Download Aquatank Booking Form (73.45 Kb)